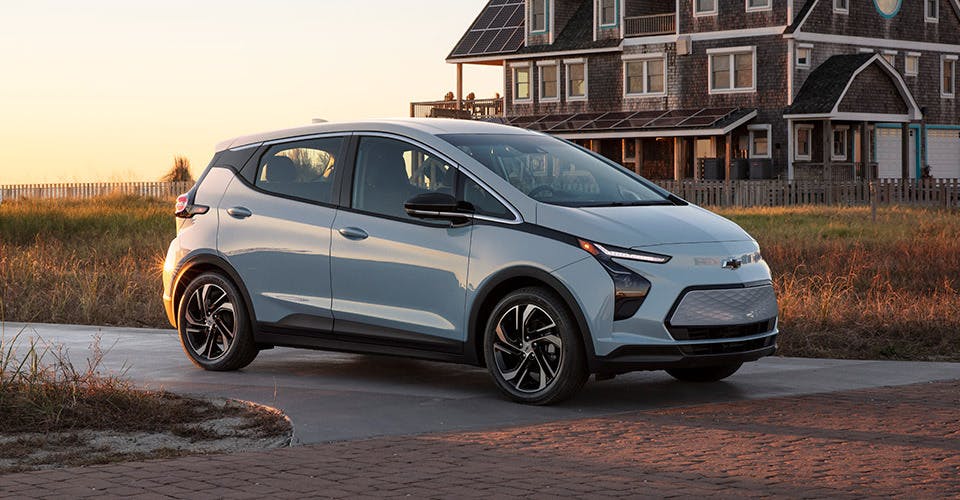 Charging Ahead: The 2023 Chevrolet Bolt EV
In an era where electric vehicles are taking the automotive world by storm, Chevrolet's commitment to sustainable mobility is more evident than ever with the release of the 2023 Chevrolet Bolt EV 1LT. This all-electric wonder combines cutting-edge technology, impressive range, and a sleek design, making it a front-runner in the green revolution. In this blog post, we'll delve into the details of this eco-friendly marvel and explore what makes it an outstanding choice for the environmentally conscious and tech-savvy driver.
Design and Aesthetics
The 2023 Chevrolet Bolt EV 1LT is a true head-turner. Its compact yet dynamic design not only improves aerodynamics but also ensures maximum interior space. The sculpted body and striking lines give it a modern and sporty appearance that's sure to appeal to a wide range of drivers. With a roomy cabin and comfortable seating for five, the Bolt EV 1LT balances style with practicality.
Electric Performance
Under the hood, the 2023 Bolt EV 1LT boasts a 65 kWh lithium-ion battery that powers an electric motor delivering 200 horsepower and 266 lb-ft of torque. This electric powertrain accelerates with seamless speed, making city driving a breeze and highway travel a pleasure. The single-speed automatic transmission ensures a smooth and responsive ride, making the Bolt EV 1LT an excellent choice for daily commuting or longer journeys.
Impressive Range and Charging
One of the most significant advantages of the 2023 Chevrolet Bolt EV 1LT is its range. With a fully charged battery, this electric vehicle can cover approximately 259 miles on a single charge, making it a practical choice for everyday use. Furthermore, its DC fast-charging capability allows you to recharge the battery rapidly. In just 30 minutes, you can gain around 100 miles of range, making long road trips more feasible than ever before.
Advanced Technology
The 2023 Chevrolet Bolt EV 1LT comes equipped with a host of cutting-edge features to enhance your driving experience. The infotainment system includes a 10.2-inch touchscreen display that offers Apple CarPlay and Android Auto compatibility, keeping you seamlessly connected while on the road. You can also benefit from various driver-assist features such as adaptive cruise control, lane-keeping assist, and automatic emergency braking, ensuring safety is a top priority.
Eco-Friendly Focus
Chevrolet's commitment to sustainability is evident in the production of the Bolt EV 1LT. From the use of eco-friendly materials in the interior to its emission-free electric power, this vehicle is designed with the environment in mind. By driving the Bolt EV 1LT, you're not only enjoying a state-of-the-art electric vehicle, but also contributing to a greener, more sustainable future.
The 2023 Chevrolet Bolt EV 1LT is more than just a car; it's a statement. It represents a shift towards sustainable, eco-friendly transportation without compromising on style, performance, and technology. Whether you're looking to reduce your carbon footprint or just want a thrilling electric driving experience, the Bolt EV 1LT is an option worth considering.
With its appealing design, impressive range, rapid charging, and advanced technology, the 2023 Chevrolet Bolt EV 1LT is at the forefront of the electric vehicle revolution. It's a testament to Chevrolet's dedication to shaping the future of driving.
So, why wait? Embrace the future of automotive excellence with the 2023 Chevrolet Bolt EV 1LT and experience the thrill of eco-friendly driving like never before. It's time to electrify your journey!
Back to Parent Page