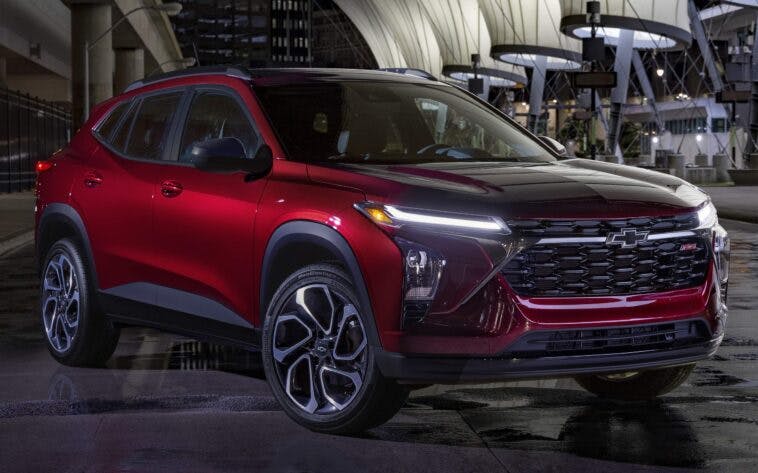 Unveiling the Future: 2024 Chevrolet Trax 1RS
In the fast-paced world of automotive innovation, the year 2024 is poised to be an exciting one for Chevrolet enthusiasts. With a legacy of delivering reliable, stylish, and versatile vehicles, Chevrolet is set to raise the bar yet again with the 2024 Chevrolet Trax 1RS. This compact SUV promises a thrilling driving experience combined with modern features and innovative technology. In this blog post, we'll take an in-depth look at the 2024 Chevrolet Trax 1RS, its key features, and why it's set to make waves in the automotive world. 
Performance that Packs a Punch 
One of the standout features of the 2024 Chevrolet Trax 1RS is its impressive performance. Under the hood, you'll find a robust 1.4-liter turbocharged engine that delivers a punchy 155 horsepower and 177 lb-ft of torque. This powertrain is paired with a smooth-shifting 6-speed automatic transmission, ensuring a responsive and engaging driving experience. Whether you're navigating city streets or exploring the great outdoors, the Trax 1RS has the power and agility to handle it all. 
All-Wheel Drive Capability 
For those who crave adventure, the 2024 Trax 1RS offers an available all-wheel-drive system that provides enhanced traction and stability, especially in challenging weather conditions. Whether you're driving on wet or slippery roads, this system helps ensure you stay in control, giving you peace of mind on every journey. 
Modern Exterior Design 
The 2024 Trax 1RS boasts a sleek and modern exterior design that's sure to turn heads wherever you go. With its bold front grille, striking LED headlights, and stylish alloy wheels, this compact SUV exudes confidence and sophistication. The available two-tone paint options allow you to personalize your Trax, making it a true reflection of your style. 
Tech-Savvy Interior 
Step inside, and you'll discover a tech-savvy interior designed with your comfort and convenience in mind. The spacious cabin offers ample legroom and cargo space, making it perfect for both daily commutes and road trips. The 2024 Trax 1RS comes equipped with an intuitive infotainment system featuring a touchscreen display, smartphone integration, and available built-in navigation. Stay connected, entertained, and informed on the go. 
Advanced Safety Features 
Chevrolet has always prioritized safety, and the 2024 Trax 1RS is no exception. This compact SUV comes with a suite of advanced safety features, including: 
Forward Collision Alert

: Warns you of potential front-end collisions and can even apply the brakes if necessary.

 

Lane Departure Warning

: Alerts you when you unintentionally drift out of your lane.

 

Blind Spot Monitoring

: Helps you change lanes with confidence by warning you of vehicles in your blind spot.

 
With these features, you can drive with peace of mind, knowing that you and your passengers are well-protected. 
Fuel Efficiency 
In an era of rising fuel costs and environmental consciousness, the 2024 Trax 1RS shines with its impressive fuel efficiency. With an estimated EPA rating of up to 30 mpg on the highway, you can enjoy your adventures without constantly worrying about refueling. 
Conclusion 
In summary, the 2024 Chevrolet Trax 1RS is set to be a game-changer in the world of compact SUVs. With its powerful performance, modern design, tech-savvy interior, advanced safety features, and fuel efficiency, it checks all the boxes for drivers seeking a versatile and exciting vehicle. Whether you're a daily commuter or an adventure enthusiast, the Trax 1RS offers the perfect blend of style and functionality. 
Visit Diehl Chevrolet of Hermitage to experience the future of driving with the 2024 Trax 1RS. With its combination of innovation and reliability, it's a vehicle that's sure to redefine your expectations of what a compact SUV can be. Don't miss out on the opportunity to be a part of Chevrolet's legacy of excellence. Upgrade your ride to the 2024 Chevrolet Trax 1RS today! 
Back to Parent Page